Network Shutdown
ver. 1.0 Freeware
by Jackhamer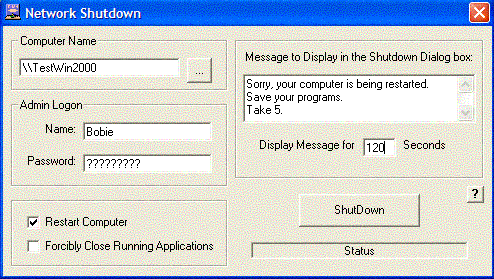 Download:
Description:
This is a program used to shutdown computers remotely over a LAN.

Requirements:
Windows NT or higher

Note:
The logon is used because you need to logon to the remote computer with Administrative rights.

Features:
Computer name: This is the name of the computer you want to shutdown.
Admin Logon: This will log you on to the computer you wish to shutdown. You must logon with Administrative rights in order to be able to shutdown the computer.
Restart Computer: The Remote computer will be restarted instead of shutdown.
Forcibly Close Running Applications: Forces any programs that are running on the remote computer to shutdown immediately. This means that any unsaved data is lost, so watch this one.
Display Message: This will display a message on the remote computer before shutdown/restart.
Seconds: The number of seconds to display the message on the remote computer before shutdown.


Comments\Questions
E-Mail: Support@Jackhamer.net